Last week, I had the honour to be interviewed by Miss FQ, A renown New Zealand magazine & website style guide for the sassy, fashion-obsessed Kiwi girl.
Here's the interview I plucked from the original page.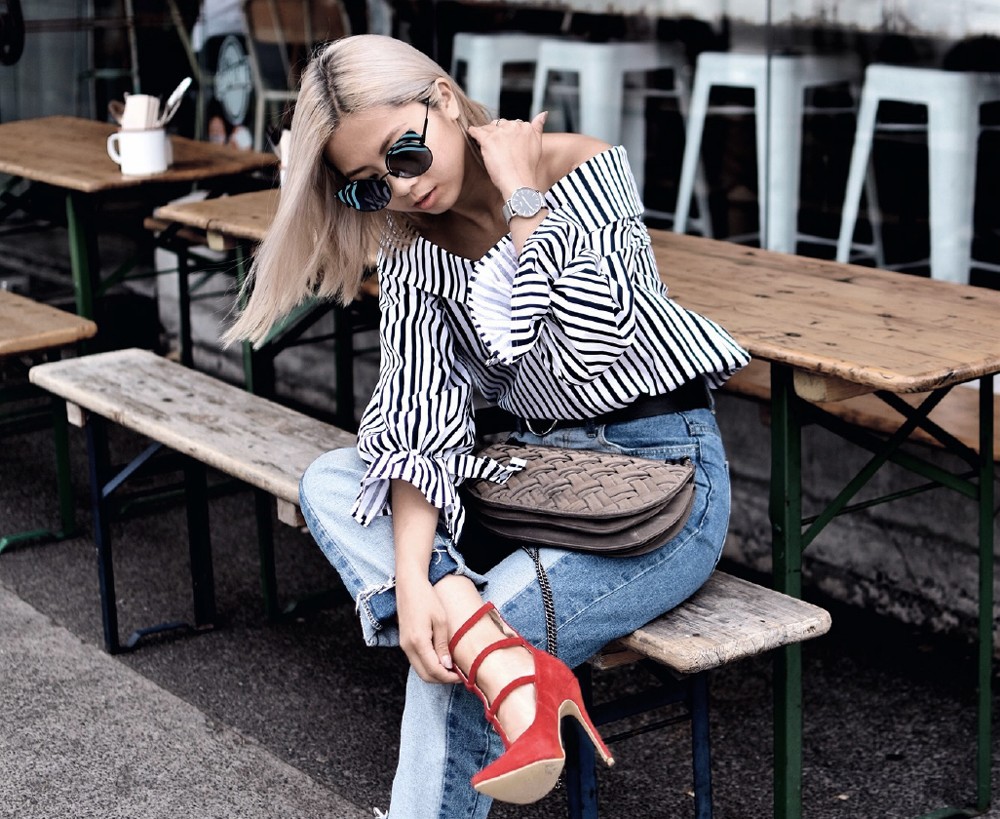 GIRL YOU NEED TO KNOW:
BLOGGER AKI FROM THE SLEEK AVENUE
Each week, we interview local up-and-coming influencers, It girls and future #girlbosses.
This is Aki from The Sleek Avenue.
What's your story?
I grew up in a very small town of Malaysia, I played with sand, rain, climbed trees when I was a kid. Then when we moved to a big city, my fascination naturally turns to the finest creations of humans: art, fashion, architecture, because they are the total opposite of my childhood. I moved to New Zealand for uni thanks to a scholarship and then flew back to Asia for some exciting art director opportunities, and now I'm back, working for an international advertising agency.
We are obsessed with your Instagram and website. How long have you been blogging and how did it all begin?
Thank you, I'm flattered!
Back in Asia, I was an art director running advertising campaigns for some of the most amazing international clients, The Dubai Mall (UAE), Mondial (Indonesia based diamond jeweller specialised in excellent grade diamonds), BMW (Singapore) to name some. Those are the best memories I'd ever have of my career and I really missed directing fashion campaigns ever since. One day I simply thought what could be more fun than directing your own fashion campaign, so that inspired me to start The Sleek Avenue in March 2016.
 
Where did the name 'The Sleek Avenue' originate from?
I was shopping on Saks Fifth Avenue and simply thought 'The Sleek Avenue' would be cool for a blog for those who enjoy shopping as much as I do ha ha.
You've got the most incredible style, Aki. Where do you shop for all of those fabulous international designer items?
Aww, too kind my love.
I think you don't need designer items to be stylish but it just happens that I grew up in that environment so that's what I know well and enjoy. I am a true believer of buy less but buy quality. Some of the designer goods on my blog are more than 5 years old and they are still in very good condition.
When I'm looking for new items, I shop between Farfetch, LuisaViaRoma, Net-a-Porter, Matches, Saks or Ssense, depending on which has the best price on the item I'm looking for.
My boyfriend's parents are the sweetest though, they are from Italy and always keep an eye out on the Italian brands that are on sale for me.
Who are your favourite Kiwi designers?
I feel we have so many amazing designers and I really want my international audiences to know. Watch out New York 😉
What three items are currently on your shopping list?
Shoes are my poison and I'm currently looking into some shoes that are in bold colours. I would love one in Emerald green, royal blue and yellow but I'm not sure what design or brand yet.
What are your secrets for taking the perfect flatlay/coffee table 'gram?
For me, simplicity is the way to my flat lay. Figure out what's your subject matter, is it the coffee? Is it the Acai bowl? Find your hero, then build it from there and decorate around it.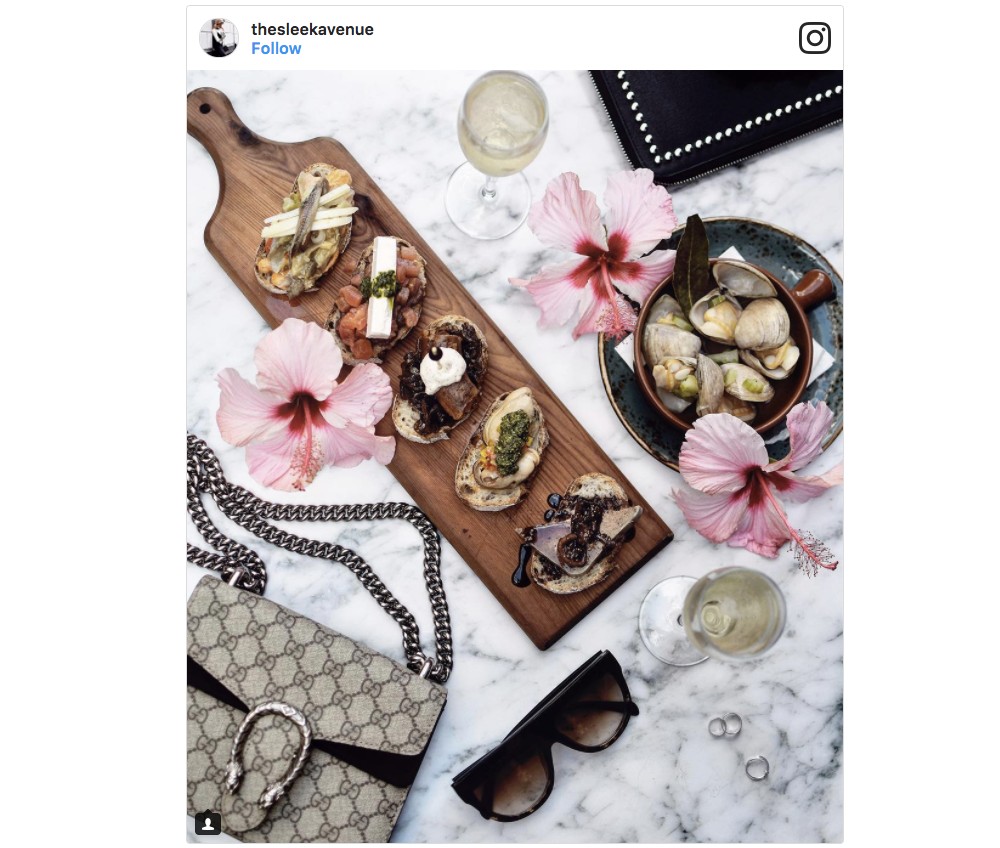 And what about an outfit photo? You always nail it. Teach us your ways!
I always pick a background that compliments, or tells a story about my outfit. My priority is always on how my garment looks, whether every pieces sit well and work well together. My face is secondary, because I know if my outfit looks good, I will look good.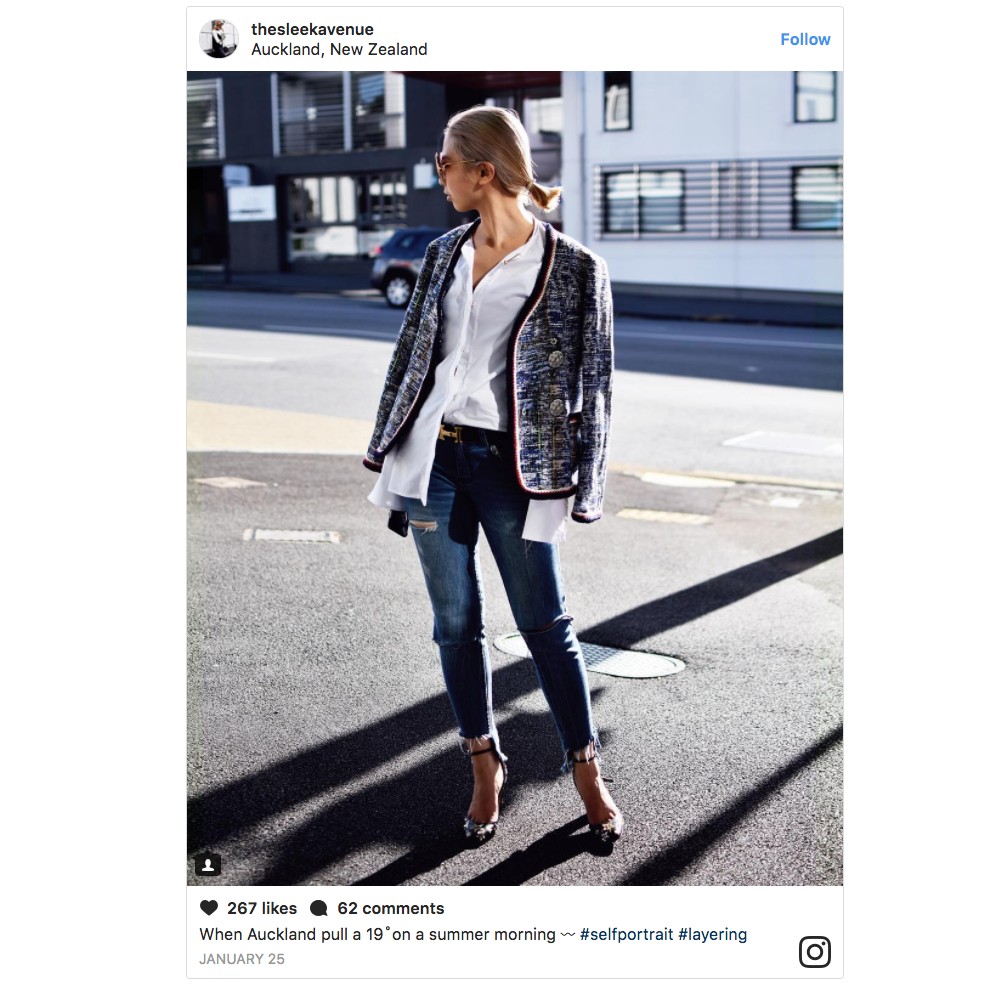 What type of camera do you use?
iPhone 6s and a Nikon 5500. I feel that it's not always about the camera, some of my best posts are from my iPhone.
How do you edit your photos?
Coming from a retail advertising background, the colour accuracy of products are very important for me. I try not too much as it might changes the colour of my garments. Instagram has some amazing build-in filters though, I use 'structure' quite a bit to bring out the texture of the fabric. VSCO cam has some amazing filters to make your page looks consistent too. I'm loving the A5 and S2.
List five beauty products you can't live without…
To be honest, if I can only have one beauty product in my bag, it would be an eye liner without a doubt.
Sunblock: mum has constantly reminding me that sun protection is the best way to anti-aging therefore an SPF30 is always in my bag too.
Lotions/ body butter: Whether I'm in the office or at least, there will always be a bottle lying around somewhere. I'm a maniac ha ha.
Facial mask: some says creative is a 24/7 job. This 15mins beauty routine makes me to put my work aside and helps me to 'short circuit' my brain so that I won't burn out.
Face oil: I always tap some on my face in the mid-day or on top of my night cream. Bobbi Brown and LoveSkin has an amazing one, it simply adds an instant glow to your skin.
Top three of favourite Instagram accounts every fashion-lover should follow?
Margaret Zhang, loving her revolutionary thinking, her eye for style and photography. Everything about her is just amazing, she is my idol!
Miss_Gunner, in love with her signature style, she is a fabulous girl next door. Her style is so distinctive yet applicable to your daily lifestyle, and she is so lovely in person.
Mary Seng from Happily Grey, this girl makes anything look effortless chic, and Gosh her photography and editing, totally black belt level!