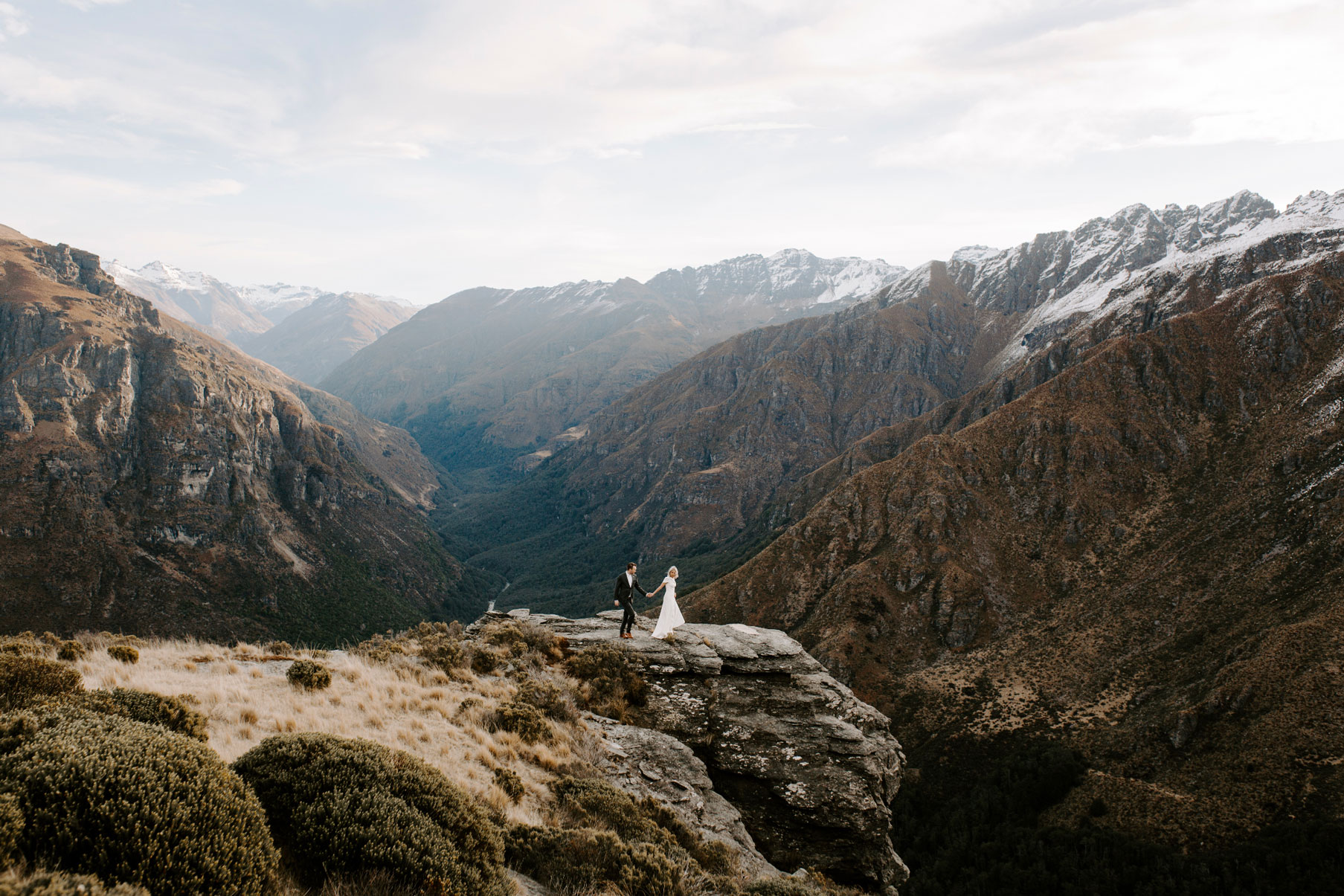 Aki and Andrew Curtis want their wedding story to inspire other New Zealanders to be creative and clever with their wedding planning.
Conventional wedding stereotypes and stress
A traditional wedding can take more than a year to plan. There are many elements to take into consideration and the budget can get out of hand easily if you are not careful. The guest list, venue, wedding attire, wedding cake, catering, flowers, photography, videography, the list goes on… It's one of our most significant life events and many people put themselves under huge pressure preparing for it.
Wedding debt has also become such a normal thing. An average New Zealand wedding costs $30K, according to an article on Moneyhub in 1 May 2020. The global pandemic has caused many to rethink the wisdom of spending so much money during a time of great uncertainty – who knows if you'll be under lockdown when the big day finally comes?
Planning a wedding, practically
Once Aki and Andrew accepted that a traditional wedding was off the table, they suddenly realised all the old rules didn't apply.
Instead of a year-long planning process, they were able to bring together all the elements they wanted for a Queenstown elopement in 16 days. This included booking a helicopter to be on a mountain top to say "I do" just before the sunset, accompanied by a celebrant, photographer and videographer.
Instead of spending $100+ per head on a wedding reception, theirs was an intimate downtown Queenstown banquet for two. They still wanted to find a way of sharing the day with loved ones and settled on a surprise video announcement, posted on their social channels.
Look at this 30secs video and guess how much this wedding cost? $9,304.44
The sustainable wedding attire
To achieve a wedding like this, you don't need to break the bank. Instead, start looking at all the assumptions people have about planning a wedding and ask yourself if it really has to be that way.
The wedding dress is a great example. A custom gown can cost up to 5-figures and take months to make. Yet this is something that can only be worn once! Instead, Aki bought her designer attire online for $2321.93 during the lockdown. She also wanted it to be sustainable so the top and trousers can be worn separately again in the future (you heard it right, trousers). The bridal bouquet is now their living room decoration.
Andrew's suit was the result of dedicating a few afternoons browsing some of Auckland's finer menswear stores before finding the perfect dark grey suit that he could buy straight off the rack. He'll definitely be getting many more wears out of this in future!
What do you want
Looking back on their wedding, Aki and Andrew have often remarked that it had everything they wanted and nothing they didn't. The key to this was being able to answer one question, "What do you want?"
How easy that question is to answer depends a lot on expectations you place on yourself, and the ones you perceive are coming from others. The good news is, you don't have to give your decision making power away to those influences.
If you still want a bridal party of 35 people and a reception for 500 then by all means go ahead – but only if that's something that really matters to you.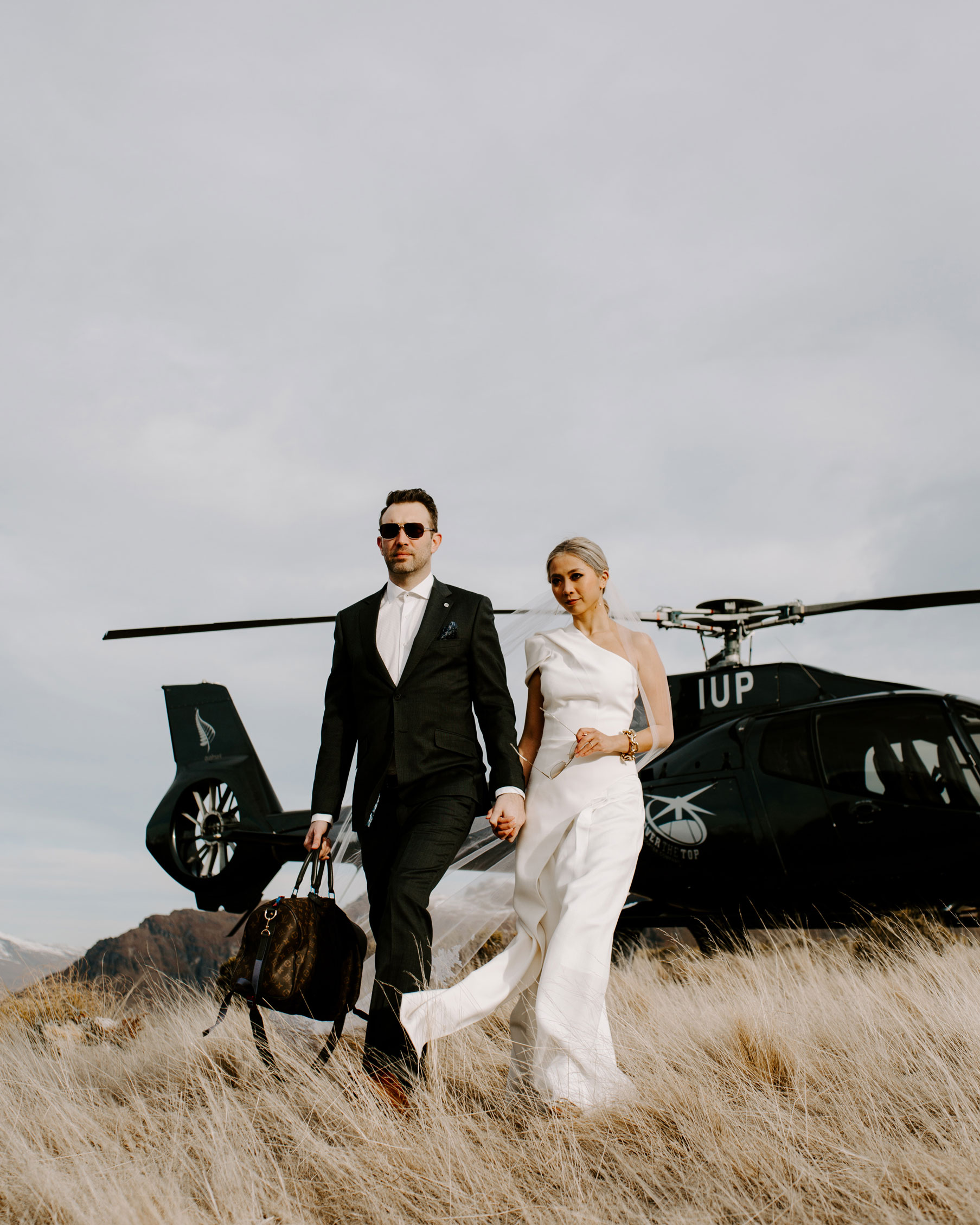 In the many years of weddings they have attended, Aki and Andrew realised they struggled to remember much about the big day itself and often observed an exhausted bride and groom by days end. At the end of the day, there's only one person you'll be waking up next to for the rest of your life and they won't be too concerned about what you served at the reception dinner!
Decide on what you want, and have the courage to go for it. It really is as simple, or as hard, as that.
If you are interested to know more about planning for an elopement, here's our tips and tricks.
Photo by Dawn Thomson Photography
Video by Jared Donkin, directed by Aki Curtis
His outfit: Ted Baker
Her outfit: Safiyaa top, Jacquemus pants
Dried bouquet from Rose Tinted Flowers
Reference:
States on average NZ wedding cost:
https://www.moneyhub.co.nz/wedding-planning.html